Chris got up early. I had been up ages ready for the office but Chris was going across to the House.
I was amazed to see that she was wearing a robe rather than the leggings she usually wears. ( I think you call them a dress and trousers.) She also had her church robes. She explained that she had to take a Memorial service for a friend which is what she was preparing for yesterday. There were a lot of people in the Chapel and Chris found it very hard but she had know the friend a long time and knows her family, but we got through. After a drink of something you call coffee we went back to the Chapel.
There is a special rose named after Talbot House and one of them was blessed at a special service. That rose was then to be taken to England and presented to the Queen. Oh my goodness I hope it survives the journey!  Chris was asked to read a poem but she felt that it was too much after the Memorial Service so we sat in the congregation.
We went into the garden and had different drinks, more to my liking! We also met the Ambassador from Brussels who lives in Rochester Diocese when she is at home so she and Chris had a good chat. Fortunately the sun was shining.
The family were still there from the memorial service and Chris knew a lot of other people who were there so she was able to have a good chat to old friends.
In the evening we went to one of the local restaurants for supper with some English friends. We were enjoying things when another group came in and sat at a table close by. Chris knew those people, too, and I must say the noise level increased because they were quite a large group!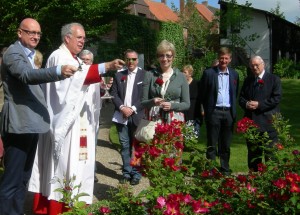 I was pleased to get 'home' as it was way past my bedtime! Chris said she was pleased to get home, too, because it had been a busy day and quite tiring.