Hello!
It has been some time since I was able to write to you. I hope you are all having fun in the summer!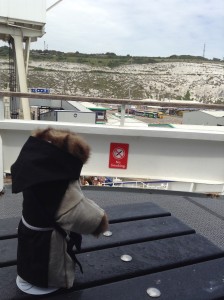 I had my second trip to Belgium. We got to Dover without problems but then we had to wait for the boat, just like in my day. We did leave on the day we planned , 1½ hours late, but sometimes I had to wait a week or more for tides and winds. Our friends, Marc & Frieda, were concerned because Chris usually arrives around tea time and we had not been able to tell them we would be late.
We went outside for a short time which was much better than last time. It is so much more comfortable than in my day. I was able to look at the cliffs of Dover and although these boats are big I was interested to see that the cliffs are even bigger!
Marc & Frieda have a new dog! It is a black dog, which Chris said is a Spaniel. The brute tried to bite me but Chris stopped it! Frieda said that Queen sleeps with the toy Chris gave her last time!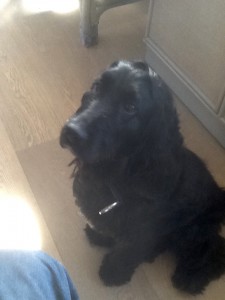 I can tell you I was pleased to get to my bed!
Next day Chris went to the market and the shop she likes, then we had a lazy time because Chris said Saturday would be busy and she needed to prepare, I am not sure what but I was quite happy to meditate.
In the evening we had something called a Bar B Q. In my day we used to cook meat by roasting it on a spit or boiling it in a pan. I was interested to see that Marc laid the meat on a plate but I could not see any wood or flames. Despite this the thing was very hot so I kept my distance!
I was pleased to see that this Bar B Q thing necessitated drinking wine so I was happy to join in! It is so much better than these other things you drink.