Hello All,
I have been asked why we are called Cistercians. Well our first monastery was founded in a place called Citeaux in France and the name developed from that. There is a drawing of the monastery in the 16 Century.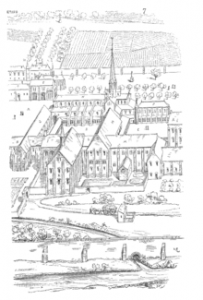 Our very first monastery in England, Waverley Abbey,  was founded in 1128 near Farnham in Surrey. You can still visit it today but it is now ruined after the Eighth King Henry stole all our land. My beloved Rievaulx was founded only 5 years after Waverley and by the time all the monasteries were closed there were 700 of our monasteries in Britain and lots more from other Orders.
The French closed all the monasteries and stole our land, too, but not until much later.  Citeaux was closed but some monks have gone back and rebuilt it so you can visit that today.
I visited it a number of times when I was Abbot and we had to go for meetings and Chris tells me that she visited the new Monastery some years ago. I wish I had been with her then.
Must go as the Chapel bell is ringing.
Every Blessing
Abbot Aelred